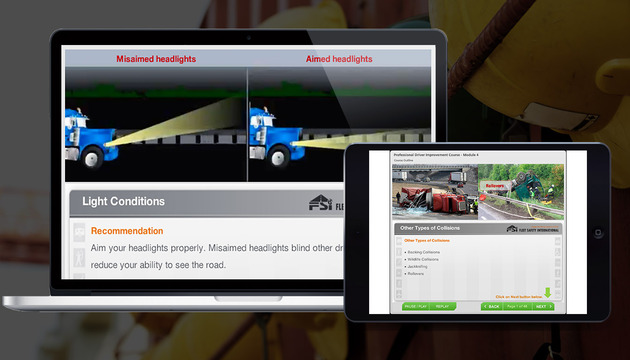 Professional Driver Improvement Course – 3 Demerit Reduction Online Training (Alberta Only)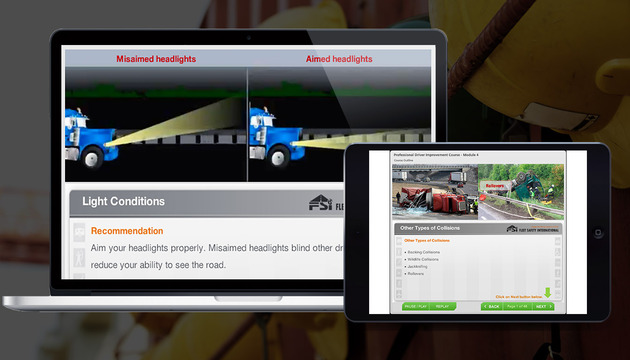 Description
This program is designed specifically for professional truck drivers. It is a government-approved program that is highlighted by Fleet Safety International's internationally recognized SAFER System of defensive driving. Successful participants receive a 3 demerit reduction off their license.
Features:
NEW! iPad compatible
Fully Approved 3 – Demerit Reduction
Begin your training in minutes
Start and stop training at your convenience
Printable PDIC certificate of completion
24/7 365 access to online training
COURSE DURATION:
Minimum 6 hours as per Alberta Government regulations
PROGRAM TEST:
Testing conducted in this online PDIC 3 Demerit Reduction Program is designed to reinforce the information presented. A mark of 80% must be achieved to qualify for a 3 demerit point reduction from an Alberta operator's license. If 80% or greater is not achieved, you will be allowed to re-attempt the exam after a 24-hour cooldown period.
These secondary attempts are manually issued during business hours only. If your 24 hour period is reached outside of standard business hours, you will be issued access the morning of the next business day.
**Should you be unsuccessful at the second attempt, you will be required to repurchase the course.
PROGRAM CERTIFICATE OF COMPLETION:
Alberta residents who achieve the required passing mark and have filled out and submitted the form at the end of the course will receive an Alberta course completion certificate. Please note it may take up to 10 business days to receive this completion certificate.
Course Outline
SAFER System of Defensive Driving
Adverse Conditions
Two Vehicle Crashes
Railroad Collisions
Bicycle and Motorcycle Collisions
Road Rage
Cellular Phone Research
Fatigue and Driving
Inattention and Distraction
Drinking, Drugs and Driving • Roll Over Collisions
Gravel Road Driving
Advanced Driving Principals
Driving and Technology
Anti-Lock Brakes and Air Bags
Skid Control Theory
Backing Collisions
Deer Collisions
Pedestrian Collisions
Jack Knifing